LETS GET BRANDING


So you finally have your logo designed and are ready to get some branded gym wear made up for you and your clients. However you quickly lose your excitement when you have to decide how much to charge your clients? What material to order? Positioning and sizing of logo? Bulk purchase or single purchase as per client order?
Well fear not as we have a few tips that will help make the process as smooth as possible for you and allow you to get back to feeling excited and motivated in growing your brand.
How much should I charge my clients?
Now this all depends on what you want to achieve from your branding, we find this tends to fall into one of two categories, Extra income or Brand awareness? Lets speak a little more on the two reasons.
Extra income: Most PTs do this to increase the income into their business where the process is simply the cost of producing the garments and whatever percentage mark-up they require on top. This tends to range between 10%-30% and we do not recommend competing with other trainers and brands as their goals and objectives may be different to yours, try and focus more on your brand value and what you believe your brand/time is worth.
Brand awareness: Many people like to feel part of a group (wolf pack feeling) and sometimes the easiest way to achieve this is with everyone training in the same gear. Making your garments as affordable as possible tends to be the easiest approach, some PTs offer their items for free as part of their overall package cost. This means all your clients are wearing the same gear and if you have enough clients then you can benefit greatly from a lot of free advertising to help boost your brand awareness. We find the best way to make your garments as affordable as possible is to charge customers only the cost of making the garments or even charge a reduced amount and take the hit. The plan is the shortfall should be recovered by the number of people who are able to afford your garments and are now advertising your brand on their body which may help bring in more clients.
Now this is not to say you cannot achieve both at the same time and many PTs do successfully, however if you are really struggling with pricing then start with one or the other and then begin to combine both as your client base grows.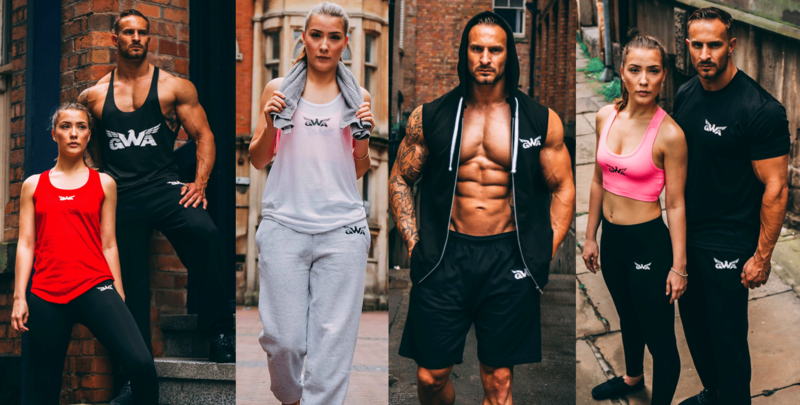 What material to order?
Cotton, polyester, nylon, cotton blend and the list goes on, however we believe you may be focusing on the wrong question. It is not what materials you like, it's the one your clients feel most comfortable training in. Many PTs make the mistake of ordering for themselves rather than their clients, for example most PTs like to have fitted garments, but if your client has just started on their road to fitness then body hogging clothing will not be their preference. You could end up with what we call STEALTH DROP OUTS, these clients will just stop training with you purely because they don't feel comfortable when they train in your branded gear but they will never say it's because they hate lycra but just that times are hard and the other typical excuses.
Easiest fix in the world in our opinion, just observe what your client trains in already and this will tell you exactly what they feel comfortable wearing. Some of us are very picky about what we train in so don't rock the boat unnecessarily be observant of your client base and this will be a piece of cake.
Our Branding programme allows you to select from a range of different materials for each client with no need to bulk order so this should help eliminate the problem of one material fits all..
Positioning and Sizing of logo?
This is purely based on what we have experienced with our current client base and therefore we recommend to start with a small logo on your garments simply because over time we have seen Pts get more creative with their designs and want to add more to their garments e.g. sponsors, contact details, initials, achievement t-shirts and slogans. If your logo is big to start with then it may cause you an issue with where to fit your additional graphics. If you have made a bulk order with large prints, should you have any creative ideas immediately after you will need to get brand new garments made all over again. If you have made a large order and the logo was kept small to start then our branding programme allows you to send the items back to us to have the additional graphics added to your garments so all you pay for is the print of the new artwork and you don't get left with outdated stock because your brand has moved on.
However if you know you are likely to keep to one design or like your designs to be loud and stand out then big is better but just bare in mind the you may need a new t-shirt order for all your creative ideas.
Bulk purchase or single order?
Our branding programme means you get to avoid this issue totally and can order single items at the agreed fix price should you be accepted on the programme. You can also have a link created on our website which allows the customer to order directly from the website leaving you free of any administrative work. We just pay you the difference between your set client price and the programme cost. We will then deposit the difference into your account once you reach a threshold usually between £20 £40 and £50.
This being said on any first order we recommend only ordering one of each type of garment you require just to make sure the items meet your requirements. You don't want to be left with a collection of items which are not what you envisaged. As our programme keeps you locked in on a heavily discounted price you don't lose out on not ordering a whole load at one time. The only cost would be the additional postage of £3.95 if the order is under £50 but surely this is better than be left with hundreds of pounds worth of unsatisfactory garments for your requirements. All orders over £50 on the branding programme now ship for free.
Should you need to put a large order in we can still offer a bulk discount which may be offered by the designer. As the items on the programme are already heavily discounted then additional discounts usually come in on orders with a minimum quantity of 30 items.
We hope the information has given you more insight on things to consider both now and for the future to help your brand grow quickly and smoothly. To make an application and to see our pricing scheme just follow the instructions below but please be aware our Branding programme is on trail at the moment and we only take on an additional 10 clients each month to maintain good service levels. If we are unable to include you on the programme this month due to space we may be able to accommodate you the following month and we will contact you if this should be the case.
WHAT YOU NEED TO APPLY
You will need to forward us your artwork in the largest file format you have. Should your file be unsatisfactory this MAY cause your application to be declined or we may charge you £10 for the designer to make It print worthy.
Provide us with information on the type of garments you are looking for and material. (premium materials will have an additional charge on top of programme prices).
Please send the above details to gymwithattitude@live.co.uk or message a member of staff on our Facebook page https://www.facebook.com/gymwithattitude/